Is your customer service team feeling overwhelmed? Are you looking for ways to enhance customer satisfaction while reducing costs? The answer lies in customer service automation.
This comprehensive guide will help you understand how to leverage automation in customer service without compromising on the quality of customer interactions. From understanding what customer service automation is, its benefits, to how to implement it successfully, we've got you covered. Dive in to discover how automation can revolutionize your customer service and propel your business forward.
Our data shows that 30% of customers, after signing up, decided to use an automated customer service form such as a knowledge base.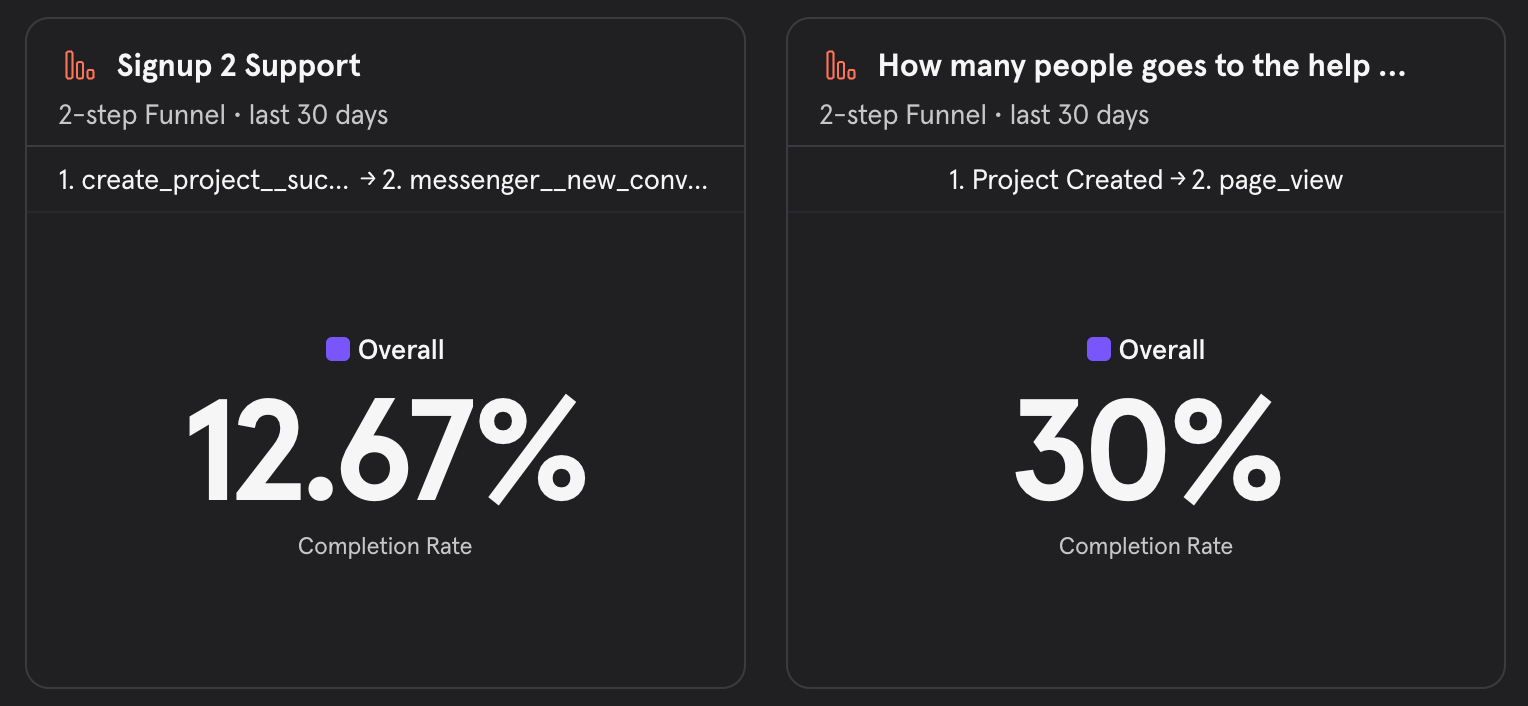 It's clear that any customer service interaction counts, but how can you be sure of creating excellent customer service while reducing your customer service costs?
The average cost per support ticket is about 16$, so it's clear why you want to use customer service automation as much as possible.
But there is a downside.
You don't want to lose valuable customer interactions because of crappy automated customer service software. Wouldn't you?
In this case, you want to search for software that helps set up automated customer service processes while keeping the customer happy when human interaction is needed.
Automating customer service ain't easy.
But done the right way, it can help with immense benefits for your company.
In this guide, I'm going to show you the following:
What automated customer service software is
Benefits of automated customer service software
Problems with Most automated customer service tools (and How to Overcome Them)
How to set up your customer service automation to win
By the end, you'll be ready to create the best customer experience and leverage the benefits of automated customer service to answer common questions, boost retention, and free up your support team's time.
Let's dive in.
What is customer service automation?
Customer service automation is a series of processes to automate customer service tasks through the help of customer service automation tools.
Here are some examples of automated customer service systems:
Knowledge base or Self-service help center
Automated Chat messages
Ticket routing
Automated suggestions of related help articles.
Automated Behavioural Workflows
Automated customer feedback collection
We'll cover them all briefly, but first, let's see the benefits of using automated customer service systems.
Which are the benefits of using automated customer service software?
1. Reduce Customer Support Costs
Customer support costs can quickly add up as your company grows.
Your user base is likely growing faster than you can hire new support reps. A customer service automation software will help you provide high-quality service without the associated costs of scaling customer support teams.
According to a study by Harvard Business Review, the average cost of a live service interaction is more than $13 for a B2B company. In contrast, a Do-It-Yourself, self-service transaction costs pennies.
An automated customer service system will also be a useful resource for your support team, as they can quickly access up-to-date information on how to do specific tasks with your product, which will help when they need to answer customer queries.
2. Improve your Customer Success Metrics
If you can answer your customer's inquiries more efficiently, then all your customer success metrics will improve.
A self-service customer support system will increase your users' trust in your company and build customer loyalty.
Why?
Well, you're helping them feel empowered and solve their problems.
In fact, 81% of customers try to solve problems before reaching out to a support representative.
Suppose you can consistently help your users solve their problems in the quickest possible way.
In that case, you'll boost satisfaction and improve related metrics like your NPS, which is closely related to retention. 💪
A good customer service automation software also helps you with customer satisfaction surveys, such as the one you see below.
How easy was your onboarding today?
Not at all easy
Not Easy
Neither easy nor difficult
Easy
Extremely Easy
Run in-app Surveys with Customerly
Customer Effort Score
Measures how much effort a customer has to put in to use your product
3. Increase your Customer Service Team Productivity
The problem with traditional customer service software is that your support team will have to repeat themselves all day.
Almost half of the business owners say that over 30% of their team's support tickets are "repetitive, yet easy to solve".
Your team can focus on important tasks and more complex support requests with a self-service support system.
Commonly asked questions can be answered in detailed help documentation and FAQ sections on your website.
One of the key features of an effective CS automation tool is to suggest the right documentation when the customer asks for it.
We'll come back to this later on.
4. Support all day long, seven days a week
If you are based in a timezone but selling worldwide, you want to offer automated customer service while your CS agents sleep.
Keep your live chat on and automate customer service with suggested articles or dedicated chat triggers to suggest solutions to common issues on certain pages.
Use chat triggers to automate customer support at the right time when the user need it.
Based on customer data, you will be able to deliver the best customer experience even when your team is not present.
And if something can't be solved, your customer service agents will take over when the automation can't help as soon as they are back.
5. Share and centralize information
Centralizing all your customer data in a single customer service software tracking the entire customer journey will help your team to speed up your understanding of the customer issues.
Without going back and forth to understand where the customer encountered the issue and what has been done from their side, your customer service agents will have a smoother customer service process.
Also, unifying communication channels will help to centralize your interactions with the customers through different channels like email or chats.
Also, your team can develop better customer service skills by having centralized documentation.
6. Marketing and SEO Benefits
Today, customer service is a key part of marketing. Buyers trust referrals and word-of-mouth.
If you provide an amazing customer service automation tool for your customers, they'll never run into annoying problems with your product. Your customer relationships strengthen and your marketing team will be happy to get more customers by the word of mouth channel.
As you enable people to use your product successfully, they'll be more likely to recommend your product to their friends and network and more likely to keep paying you monthly.
Content & SEO Marketing
As well as that, there are SEO benefits to a knowledge base and automated chat suggestions.
Wix's help docs were one of their key drivers of organic traffic in their early days, as they answered common questions people trying to build a website were asking.
And if you are using automated chat triggers, like the one below, when the user needs the most help with youtube videos, you will get more engagement on other channels as well. Before posting videos, you need to edit YouTube videos to add subtitles, special effects, and music.
Nadia from Customerly
Curious about how you can use [PRODUCT]? Check out this video
Reply to Nadia
Add In-app tutorials
Add chat messages triggered when a user hover on an element in your web app
7. Automate positive reviews
You can benefit from automation if you want to expand your word of mouth or build up your Trustpilot or Capterra positive reviews.
Thanks to the most advanced customer support automation software, you can automate NPS or CSAT in-app surveys via email or live chat.
Whenever a customer is satisfied with your support, you can collect customer feedback via NPS surveys and redirect only the promoters to your favorite review portal.
Instead of asking individually to happy customers to leave a review, you can reduce customer service tasks and automate via workflows.
8. Reduce Customer Complaints
Among the benefits of automated customer service software, there is one that is underestimated: the reduction of customer complaints.
If you set up your automation the right way, your customers will say thank you, and wow every time your automated software helps them to reach their goals.
This also reduces customer complaints by 10 times, as one of our customers achieved in the last 6 months.
When do you need an automated customer service platform?
Are you sending the same answers over and over again? Is your service team stressed and overwhelmed? Do your customers complain about the lack of responsiveness from your support?
This indicates that your company needs a customer service strategy that helps your customer support team avail of artificial intelligence to suggest repetitive questions.
72% of consumers report they are likely to switch to a competitive brand after just one bad experience.
Suppose you can be the brand that answers every question your customers have in a simple, fast way. In that case, you'll keep your customers happy and have a clear competitive advantage over competitors who aren't prioritizing support.
Problems with Most automated customer service tools (and How To Overcome Them)
Unfortunately, automated customer service systems aren't a silver bullet.
Automate customer service with the help of artificial intelligence is not always a good idea because it creates more frustrated customers than you can imagine.
Many companies don't have good systems to implement them.
Gartner research shows that 70% of customers use self-service channels at some point in their resolution journey, but only 9% can fully resolve their issues via self-service channels.
In most cases, that's due to poor information structure.
If your customers can't find your help center, they won't use it.
Make your help center easy to find and easy to use.
The more accessible it is, the more likely you will see success.
Let's see how you can set up your automation to win.
How to set up your customer service automation to win
So, you're ready to build your automated customer service to win your customers' hearts.
But how exactly do you create one that works?
There are a few ways to go about it. Here are three of the most effective.
1. Create a Self-Service Knowledge Base
We saved $11,704,900 (and counting) for our customers in support tickets avoided, thanks to our help centers.
Knowledge bases are centralized information hubs containing guides and documentation on solving common problems with your product.
They're often organized by topics related to the company's services or features.
For example, Paymo categorizes their help center collections with getting started articles to help set up the tool, some video tutorials, info about subscriptions and pricing, and so on.
It's a simple and effective way to host all of your FAQs and guides in one place.
Solutions like the Customerly help center help businesses to reduce inquiries and improve satisfaction.
Support customers with personal support and human agents when possible on complex issues and use proactive support to save time with easier customer issues.
How to create a self-service portal
With the Customerly Help Center, it's simple to set up a self-service knowledge base like this.
First, head to your Help Center and click Create New Collection.
Once you've created your collection, click on it.
You can then add a new article using the "Create new article" button on the right-hand side of the screen.
You can add as many articles as possible covering all aspects of your product.
If you have multiple team members working on your help center, you'll be able to quickly see who's created the articles and their status (Draft or Public) of them.
Add keywords to improve search and auto-reply
To help ensure your customers can find your articles in your help center, you can add keywords to them in a few clicks.
From there, you can start editing the article itself and add specific keywords to the article.
Let automate with Search in chat
When a customer or potential customer searches your knowledge base for help (accessible from the Customerly live chat or in your help center), articles that match based on keywords will automatically be suggested.
For example, if I am looking for help setting up my NPS, all I need to do is search in the live chat, and I'll automatically be suggested articles to help with my problem.
Use autoReply to suggest related articles
This is why suggesting a series of help center articles depending on the customer inquiries with the help of machine learning is a better idea than automating customer service completely with chatbots.
This is precisely what our customer service automation software does. It saves your customer service agents plenty of time by suggesting help center articles based on customer requests. They encourage self-service.
It's a simple and effective way to boost customer self-service adoption and remove the need for every support request to go through your support team.
Add in-page links
On top of the autoReply and in-chat help center, add help center links to your website footer and support pages, and it'll be easy for your customers to find them when they have questions.
2. Answer Questions Instantly With Live Chat
A live chat widget is one of the best ways to answer common questions.
60% of customers expect – more than half – an immediate response when contacting live chat.
If you can create a live chat widget on your site, you'll give your customers a fast, simple way to find answers. 📲
And you will benefit from customer service automation with the suggestion of a series of knowledge base articles. So this way, you can provide customers with an instant response.
In Customerly, it's simple to set up your live chat.
Choose your installation option. You can install it via a small code snippet, a WordPress plugin, Angular, iOS or Android SDK.
Customize your settings, including:
Appearance
Available business hours
Automated questions to ask users
Default team members' questions are assigned to
Once everything is ready, you can launch your live chat.
Your customers can access it anytime, find answers to their questions, and get in touch with your support team if they can't find their answers.
When customers can't find their answer in the help center, they can send you a direct message using your live chat.
You and your team can manage your responses from a simple, unified dashboard.
Different team members can jump in and out of conversations and see details on the user you're talking with (email, location, user properties).
A major advantage to live chat is the speed.
53% of buyers in the US say they're likely to abandon a purchase if they can't find a quick answer to their question.
A live chat signals to your users and customers that you're available and responsive.
3. Proactive chats to reduce customer concerns
You can also use proactive live chat messages to engage with your customers when they need it the most.
If you spot a question arising every time your customer visits a page, anticipate the answer with a chat message.
To set up chat triggers, use one of our chat templates like the one below or create your own.
How to set up a proactive chat message
Select a chat template for in-app tutorials
Identify the page you want to trigger the chat
Add to the message the key points your users are searching for
That's it.
You will now be able to serve your customers with the proper support exactly when they need it.
4. Automating assignation
Customers expect an immediate resolution; assigning your tickets automatically is another automation you can use with some automated systems.
Use the power of customer service automation with auto-assignment to support agents always getting the right topic without requiring an additional layer of service reps organizing the incoming conversations.
Ticket routing is a way to reduce repetitive tasks (such as manual assignation) based on customer questions or customer data.
This way, you can direct customers to the human agent, taking the communication from there. This will also improve customer experience since your team can quickly reply to their inquiries.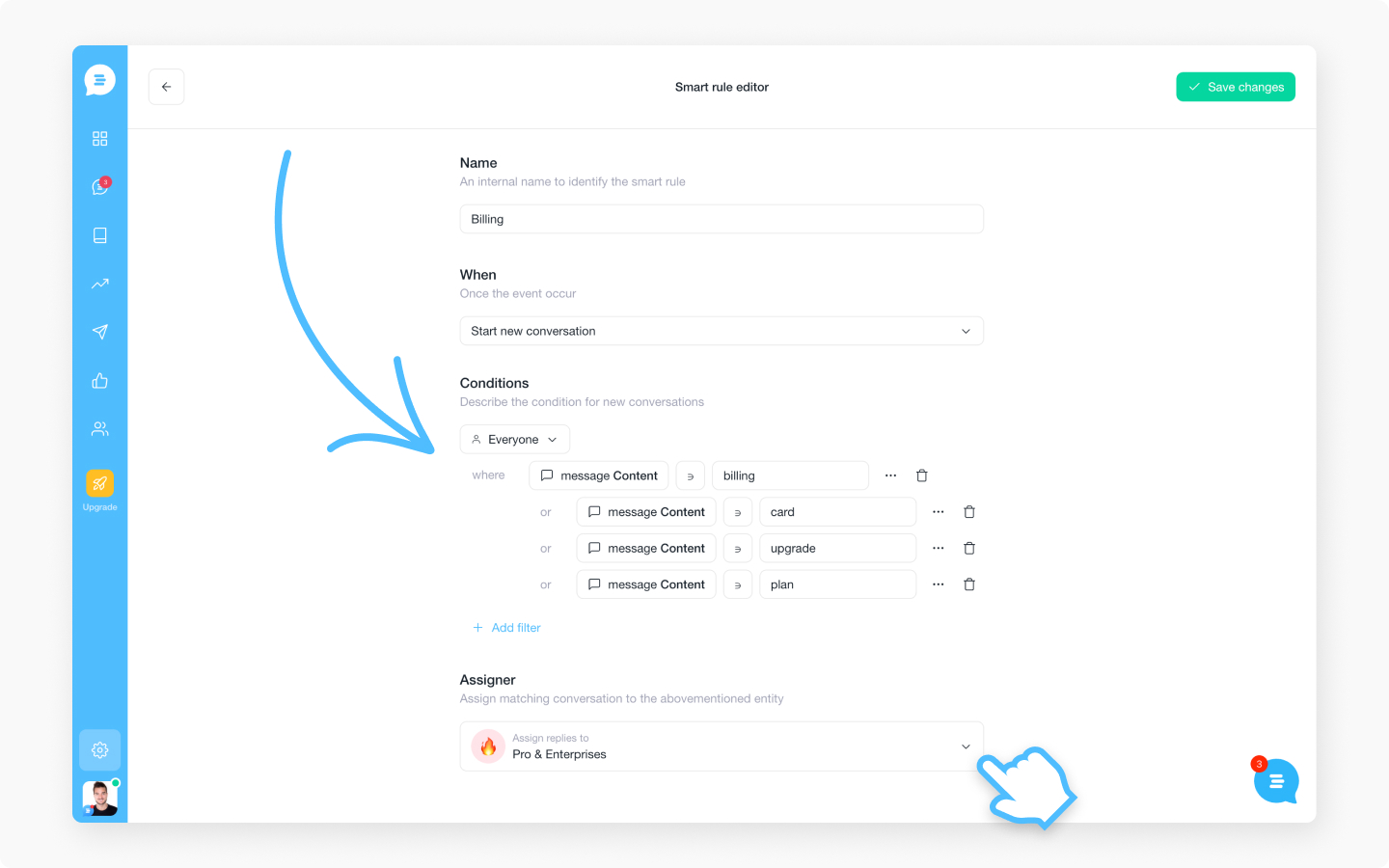 5. Use automated profiling questions to save time
Another way you can have satisfied customers (and support agents) is to let your automated customer service platform ask for additional questions before human interaction.
Asking dedicated questions will help your customer support agents to gather feedback before interacting with the customers.
As you can see below, this question will ask for the phone number, but you can also ask which problem they are trying to find a solution for.
Constantly Improve Automations
Automating customer service is an ongoing task; the more you optimize, the less you will work on it.
Your knowledge base is a living part of your website.
You should always update it and look for ways to improve the content as your product evolves.
Use an integrated customer feedback system
A simple way to do this is to choose one with a user feedback system built-in to improve the customer experience at every step of their customer journey.
This is important because it's a good way to gauge if your customer service system is helpful.
For example, your knowledge base built with Customerly will automatically collect customer feedback on the articles.
If you consistently see people saying your documentation doesn't answer their questions, you know it's time to update the articles receiving poor feedback or spend more time talking to your customers to identify their real pain points.
Avail of Analytics to improve and add relevant content
Another key feature to look out for is analytics on how people use your knowledge base.
As well as showing you analytics on your most viewed articles, you can use Customerly to find new opportunities to improve your knowledge base using the "Failed Searches" feature.
Customers in your knowledge base will type their query in, as it's the fastest way to find the right article.
But what if you don't have an article answering a specific question?
Well, head to your Help Center inside Customerly. Click on Reports next to Collections.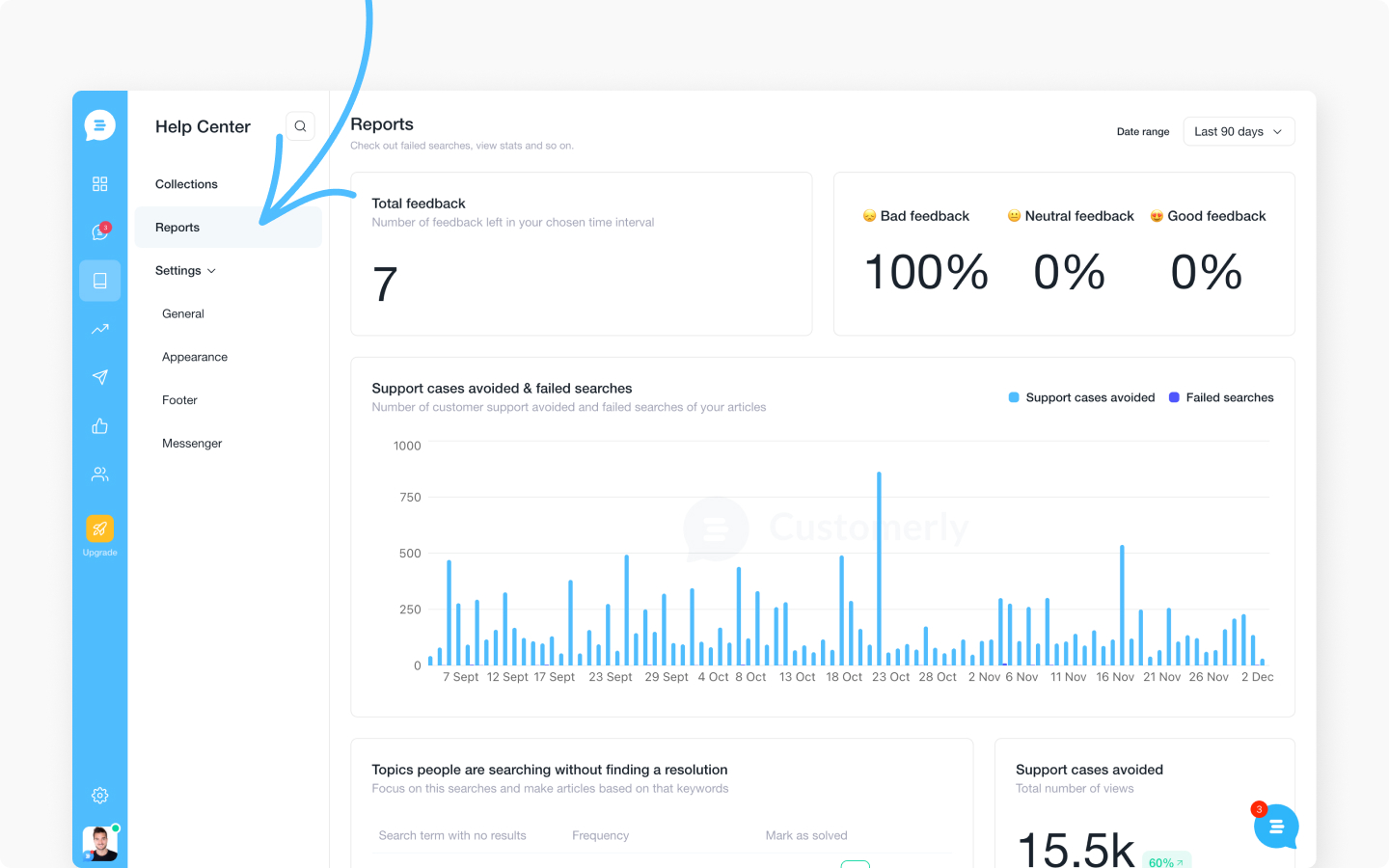 In your Analytics dashboard, you'll see a "Failed Searches" report.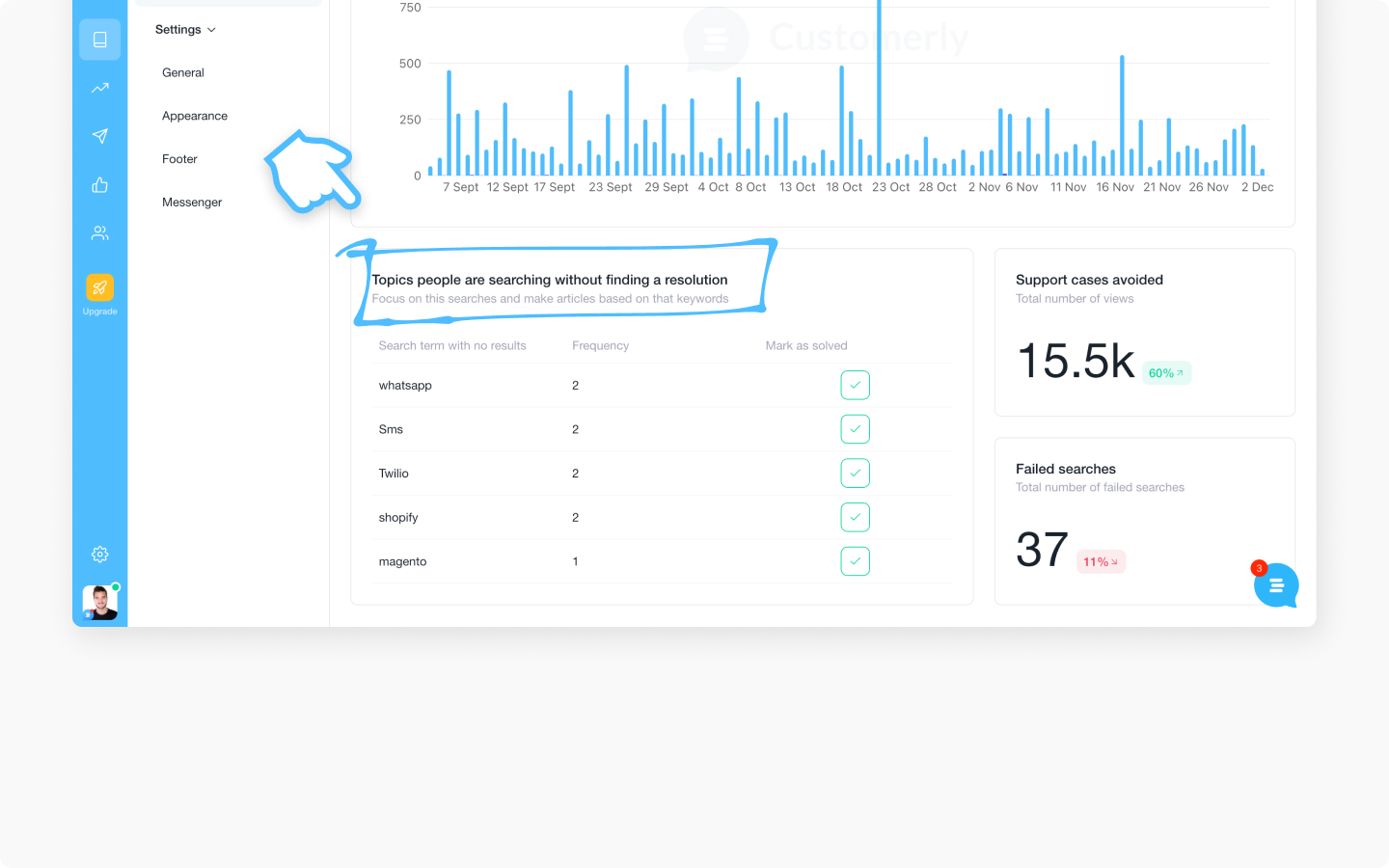 This compiles every search your customers made that didn't return an article and how many times it was searched for.
For example, maybe you released a new feature but didn't update your documentation yet.
If your users are having trouble with it, it'll show that they're looking for help. You can then prioritize which articles you create based on how many people are searching for them.
Once you have completed the article, you can mark as solved the missing article.
It's a simple and effective way to continuously improve your knowledge base.
And also it can be used as a good gauge for developing new features or products to update.
This is why customer service automation software is a way to handle support where your users can get the information they want without reaching out to support via chat or phone.
Customer service automation tools aim to provide users access to as many resources as possible in the easiest and fastest way at a 24/7 availability.
This approach is taken by many SaaS companies, as there are often high-support costs associated with handling every request via a customer service agent.
It's also ideal if you have a customer type that may not want to engage with real people for every request and wants to handle things themselves.
Final Note: Don't Be Over Reliant on Self-Service
Finally, it's always key to remember that automating customer service should work in combination with your customer service team.
The support automation won't replace your human support. Still, it will enable them to stay more productive and focus on the support requests that can't be answered in simple help documentation.
Customer experience MUST be your first objective. Always.
You'll have happy customers and a happy team. Adopting an automated customer service platform is a win-win situation for everyone involved.
Start automating customer service by signing up today for a 14-day free trial and ease your team from the excess workload.